---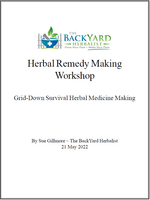 Sale
Everyone who purchases the class in-person or online will have life-time access to the recording of the class to view at any time.
Grid-down survival herbal medicine making is about being prepared to take care of yourself and your loved ones so that when medical treatment is not accessible or available, your knowledge will be the doctor that saves you.
The best thing about using herbal remedies for survival medicine is that the plants are everywhere and anyone can practice it. But if the plants are in your back yard, you'll have so much more of an advantage. Most of the herbs we'll be working with in this workshop are common kitchen herbs and spices as well as common herbs that can be cultivated in any locale. And these remedies don't require a lot of supplies, resources or time.
Curriculum: 
Emergency first aid kits
Knowledge of herbs and their medicinal uses
Foods that heal
Preventative health care
Instructions for Making Herbal Infusions
Hot Infusions
Cold Infusions
Long Infusions
Instructions for Decoctions
Remedies Being Made in the Class:

Allergy Relief Tea Blend
Hug in a Mug Tea Blend
Antiseptic Spray
Styptic Powder
Herbal Sprinkles
Anti-Diarrhea Capsules
Included Recipes:

Herbal Steams
Herbal Soaks
Poultices, Fomentations and Compresses
Fomentations and Compresses
Herbal Sprays and Washes
Buzz-Off Insect Spray
Sunburn Spray
Cooling Cubes
Homemade Wound Powder
Herbal Smoothie
Herbal Honey Butters
Herbal Milk
Nutritional Morning Drink
Savory Sprinkles
Sweet & Aromatic Sprinkles
Therapeutic Herbal Sprinkles
Chicken with Caramelized Onions
Gut Healing Tea Blend
Elderberry Decoction Syrup
Bone Broth
Herbal Bone Broth
My Private Resources for Herbs and Supplies
Ideas for Organizing First Aid Supplies
Date: Saturday, May 21, 2022
Morning Session: 9 am to Noon Mountain Time
Afternoon Session: 1 pm to 4 pm Mountain Time
In person:  Includes all of the supplies for making 6 take-home remedies and an information packet with all of the recipes and a resource list for herbs and supplies. You'll also get lifetime access to the video of the workshop. $55

Location of the hands-on workshop: Shelley, Idaho. The information packet will include a map with directions on how to get here.
Virtual attendance: Includes the information packet with all of the recipes and a resource list for the herbs and supplies you'll need to purchase to make 6 remedies at home. You'll also get lifetime access to the video of the workshop. $30
Virtual access: the information packet will include a unlisted YouTube link.

Fast Action Bonus: The first ten people who register for the class will receive the following bonus:
Quick Kitchen Remedies ($27 Value)
Using natural remedies doesn't have to be exotic or expensive. These 14 recipe cards feature herbs or foods you may already have in your kitchen or can get from a local grocer (plus a few you can get from a local herb shop). These are super simple, single herb recipes used by Herbalists through the years for common health issues.