---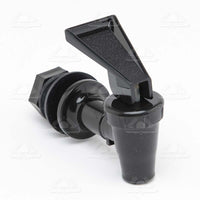 Sale
9/12/2023: In stock and shipping. 
Authentic Berkey Product - Authorized Berkey Dealer since 2013
Personal Note: If you want to make a DIY water filter system using black Berkey filters and two 5-gallon buckets this is the spigot that most people use. You can also use a stainless steel spigot or sight glass spigot. I do not recommend making a DIY system because this typically means you are not using your Berkey every day so you are drinking pharmaceuticals, pesticides, heavy metals, bacteria, viruses that can be killing you slowly over time. If you are determined to make a DYI "for emergency use only" then definitely order the authentic Berkey black filters and a spigot here.
Description
:
Replacement spigot assembly for ALL Berkey Systems - including Stainless Steel Systems and Berkey Light™.

All Berkey systems now come standard with this spigot (including Berkey Light™); in case of loss or damage, this item may be purchased individually as a replacement

The standard spigot fits the Travel Berkey®, Big Berkey®, Royal Berkey®, Imperial Berkey®, Crown Berkey®, and Berkey Light™.

Includes two washers and wingnut
Questions? Call Me. I'm here to help! Please call Monday-Saturday 8am-8pm mountain time or text me at 208-360-5384
Click the BUY NOW button and we will rush your order to you.